Discover the Rich Benefits of Our Beautiful Healing Community!
Our mission and philosophy as the owners of GreenSquare Center is health through community. We are all partners in the mission of healing; your success in business is our business. You won't find another location anywhere that supports its tenants as human beings, as healers, and as business partners. As part of your affordable rent we supply a long list of services to support you in your healing work and in your business.
Our "Turn-Key" office rentals include:
• Sunny, spacious offices with soft, attractive interiors
• Professionally Feng Shui'd common areas
• Well-lit, private, off-street parking
• Affordable communication services with private extension
• Park-like perennial gardens and landscaping
• High traffic location on major intersection in Glendale
• New offices and treatment rooms just minutes from Bayshore Mall
• Use of 2 beautiful Education Centers – no extra charge
• Web profile page with links to your special offers off the homepage – no extra charge
• eMail marketing with eNewsletter promotions – no extra charge
• Health Fairs & Community Event invitations – many free
• GreenSquare Community Networking Events
• Chamber and other Networking Group Memberships
• Prominent professional signage, outdoors and indoors
• Handicap entrances, elevator in Main Building
• Attractive, well-maintained wood and brick exterior
• All-inclusive leases
Offices & Suites Available
From single offices to clinic-sized spaces
CALL 414.292.3900, EXT. 4797
From the moment you walk into this beautifully designed Upper Level reception room and office space, you will relish the professional décor and the quiet, tasteful surroundings. Individual offices feature abundant light, windows that welcome the fresh air, central heating and cooling, and carpeting or wood laminate flooring.  A private rest room, lab space and reception with leather chairs, plants and tasteful artwork complete this "ready to move in" office space.
Greensquare Center Space Information
All inclusive leases
From heating/cooling your office to repairs and maintenance, our leases are all inclusive and generously outlined. Private equipment and decor, including a personal telephone within your private office and/or treatment room is all you'll need to complete the space.
A central reception is available for client check-in to create a welcoming, professional environment. Handicap entrance, elevator and restroom facilities are provided.  Greensquare Center is very competitively priced while offering a well-cared for, attractive wood and brick exterior with perennial gardens and landscaping.
LOWER LEVEL (Elevator Available) FLOOR PLAN:

UPPER LEVEL (ELEVATOR AVAILABLE) FLOOR PLAN: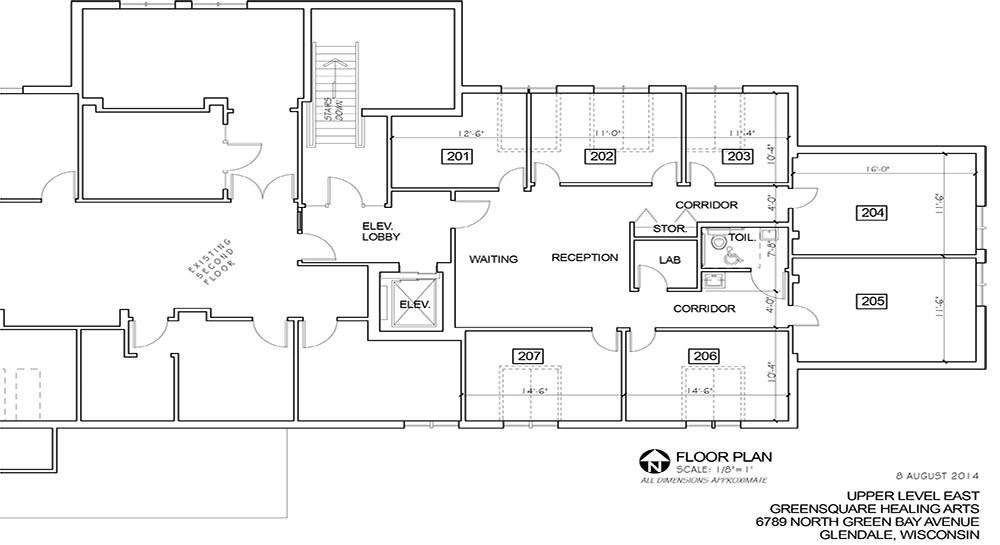 UPPER LEVEL-WEST (ELEVATOR AVAILABLE) FLOOR PLAN: